D7035
Barnstead EASYpure II 100-240V RF/UV
Easypure systems have been discontinued and replaced by the new and improved Barnstead MicroPure Systems.

Parts and filters are still available.

Model RF/UV uses integral dual wavelength 184 and 254nm UV lamp that provides for organic-free water and bacterial control within the system.
Replacement FIlters
Other Comparable Systems
Operating Manuals
Retail Price : $0.00
Our Low Price : $0.00

Sorry, This product is no longer available. Please call for alternatives
---
Reservoir Feed Models RF and RF/UV Provide 3/4 pt./min. 0.8L/min. flowrate.

Since the unit has a built in storage container, no permanent supply of water is required. This unit can be placed virtually anywhere in laboratory.

Integral 3/4 gal. 6.5L reservoir is filled with pretreated water RO, distilled, or DI and is used to feed cartridges. Model RF/UF uses integral dual wavelength 184 and 254nm UV lamp that provides for organic-free water and bacterial control within the system.

Available in six models

RF Reservoir Feed
RF/UV Ultraviolet Reservoir Feed
LF Line Feed, UV Ultraviolet,
UF Ultrafiltration
UV/UF Ultraviolet and Ultrafilter.

All models feature a whisper-quiet pump and a standby mode which recirculates water within the system for 10 minutes during every hour of inactivity.

All units except RF and RF/UV come complete with a bracket for wall mounting.

Three disposable cartridges provide increased capacity over similar systems.

Lightweight system features small, space-saving footprint.

Dimensions:
19L x 12W x 171/8 in.H 48 x 30 x 43.5cm.
Shipping weight: 35 lb. 15.9kg.
For 120V 50/60Hz.
Note: height of Model RF 09-050-43 is 181/8 in. 46cm.

Shipping weights shown in ordering table.

Cartridges and filters must be ordered separately.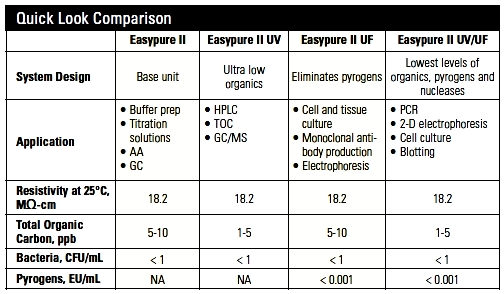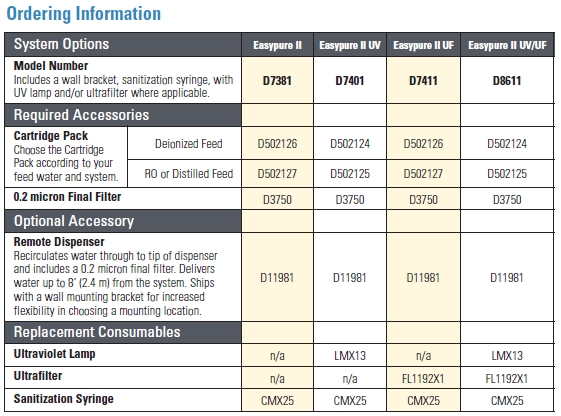 ---
Related Categories
See All :