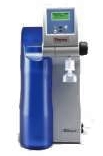 50129869
Barnstead Smart2Pure 3
Barnstead Smart2Pure 3 Laboratory Water Purification System - Provides Type I Ultrapure Water from tap water.

Systems come with the filters.

Replacement filters

This is the replacement for the popular EasyPure RO/DI systems.

Operating Manual
Retail Price : $0.00
Our Low Price : $0.00

Sorry, This product is no longer available. Please call for alternatives
---
Highest quality - instantly and fresh. Smart2Pure and Smart2Pure 12

This is the best choice for converting normal tap water to ultrapure water of ASTM Types I and II. All in one! TKA Smart2Pure is a compact complete system that produces 3 or 6 litres of ultrapure water per hour, Smart2Pure 12 produces 12 litres per hour. The built-in 6 litre tank of Smart2Pure for ultrapure water has a conical bottom for complete emptying. Smart2Pure 12 is delivered with an external tank of 30 or 60 litres, either with conical bottom.

All tanks are equipped with a sterile vent filter. The Smart2Pure system includes a pressure pump for supplying equipment connected downstream e.g. autoclaves analyzers . If required, a flexible dispenser with a sterile filter can be connected to the tank. The system has a small footprint, is very attractively designed and looks good in laboratory.

Smart2Pure and Smart2Pure12 operate with the same high-tech purification procedures as the well known Pacific and GenPure systems.

Two in one. ASTM Types I/II water.

ASTM Type I Ultrapure water. For example, for:
Molecular biology
microbiology
PCR
inorganic and organic trace analysis
HPLC
ICP
TOC-analysis

Also provides ASTM Type II High purity water. For rinsing laboratory glassware preparing and diluting buffers, reagents, tissue culture media and dyes Sample preparation for analytical methods such as flame AAS
The Thermo Scientific Barnstead Smart2Pure water purification system converts tap water into both ASTM Type 1 and 2 water all in one compact, easy-to-use box.
Dimmesions
21.5" H x 12" W x 15.75" D
Powerful performance
Based on your requirements, choose from capacities of 3, 6 or 12L/hr
Lasting economy
Water purification progresses through independent cartridges with Aquastop quick connects for fast replacement
Module 1 - Combination of pretreatment and the reverse osmosis membrane
Module 2 - Polishing cartridge contains high-quality ultrapure resin for consistent purity and long cartridge life
Easy-to-operate
Dispensing is easy and features variable speed to control flow
The display can be tilted for optimal reading
Optional UV bulb and UF ultrafilter to customize ultrapure water
Placement options
Position on laboratory bench
Mount it on the wall
Smart integrated 6L reservoir for the Smart2Pure 3 and 6
Constructed with pigment-free materials
Conical bottom outlet allows for complete draining and efficient cleaning and disinfection
Smart2Pure 12 offers reservoir options, either 30 or 60L
Large opening for easy and effective cleaning by hand.
Sterile venting filter/reservoir overflow protects against contamination by microorganisms
CO2 adsorber prevents TOC value increases from drawn-in CO2
Polyethylene reservoir is opaque to light
Recirculation pump protects the high purity water from bacterial growth during standstills and maintains the low conductivity value
Wall-mount optional for simple space-savings
Conical bottom outlet allows for complete draining and efficient cleaning and disinfection
Optional Hand Dispenser
Gain increased flexibility by adding a hand dispenser with 3 meter cord part# 50138221
50129869

Smart2Pure 3

Standard system

50129870

Smart2Pure 3 UF

Standard system + Ultrafiltration module

50129872

Smart2Pure 3 UV

Standard system + UV-Photo-oxidation

50129688

Smart2Pure 3 UV/UF

Standard system + UV-Photo-oxidation + Ultrafiltration module

50129873

Smart2Pure 6

Standard system

50129874

Smart2Pure 6 UF

Standard system + Ultrafiltration module

50129885

Smart2Pure 6 UV




Standard system + UV-Photo-oxidation

50129887

Smart2Pure 6 UV/UF

Standard system + UV-Photo-oxidation + Ultrafiltration module
---
Related Categories
See All :