ON SALE NOW
Introducing the Polaris Lab Water Systems
High Purity Water Made In The USA.
Click here for more info.
Ahlstrom Micro-Quartz Fiber Filters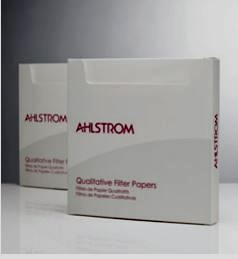 Ahlstrom's micro-quartz filters are useful for testing hot "stack" gases as the quartz fibers can withstand temperatures up to 900°C. In addition micro-quartz is used when the highest purity media is required. With excellent filtration properties and minimal traces of metals and minerals quartz fibers are dimensionally stable and can be used in the analysis of acidic gases with the exception of HF). Other sizes available for special order. T293 also available for special order.


More Info
Product Name
Retail Price
Our Price


More Info

Ahlstrom Quartz Filter - Grade MK360

Catalog id : 3600-0250

2.5 cm diameter circles - Grade MK360 Ahlstrom Quartz Microfiber Filter - 25/pk

*A $200.00 minimum purchase on all Ahlstrom product orders. You can mix different Ahlstrom products to meet this minimum.
$69.51
$47.42


More Info

Ahlstrom Quartz Filter - Grade MK360

Catalog id : 3600-0470

4.7 cm diameter circles - Grade MK360 Ahlstrom Quartz Microfiber Filter - 25/pk

*A $200.00 minimum purchase on all Ahlstrom product orders. You can mix different Ahlstrom products to meet this minimum.
$81.60
$69.37



All Images are representative and may or may not be of actual product.



Tags : MILLIPORE WATER ALTERNATIVE | AHLSTROM | MICRO-QUARTZ | FIBER | FILTERS

MILLIPORE-WATER-ALTERNATIVE.COM content (C)2009-2023 APS Water Services Corporation - All rights reserved
Website Software - Multi-Website Content Manager - Wilson Web Engineering (C)2012-2023


Micro-Website is a trademark of Wilson Web Engineering

ahlstrom micro-quartz fiber filters
millipore-water-alternative.com micro-website™
12/9/2023
7:04:24 AM




Google Apps
---