ON SALE NOW
Introducing the Polaris Lab Water Systems
High Purity Water Made In The USA.
Click here for more info.
Barnstead GenPure XCAD Water Purification Systems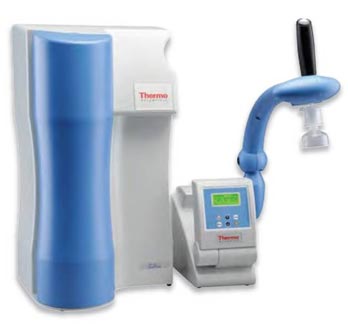 High capacity ultrapure water from a pretreated source.

The Barnstead GenPure XCAD offers outstanding control high-precision and USP-complying conductivity measurement with temperature compensation that can be switched on or off. The Barnstead GenPure system delivers ultrapure 18.2MW.cm water with consistent quality for the most demanding and sensitive applications.

GenPure systems come with filters.

Replacement Filters

Operating Manual

These systems replaced the Barnstead Nanopure Diamond systems.
More Info
Product Name
Retail Price
Our Price


More Info

Barnstead GenPure with Wall Mount x-CAD Plus

Catalog id : 50136165

Barnstead GenPure Laboratory Water Purification System - Provides Type I Ultrapure Water.

Genpure systems come with filters.

Replacement Filters

These systems replaced the Barnstead Nanopure Diamond systems.

Operating Manual
$9,224.60
$0.00
No
Longer
Available


More Info

Barnstead GenPure UV/UF-TOC

Catalog id : 50136146

Thermo / Barnstead Brand Product - with Bench Top x-CAD Plus
$14,868.00
$13,827.24



All Images are representative and may or may not be of actual product.



Tags : MILLIPORE WATER ALTERNATIVE | BARNSTEAD | | GENPURE | XCAD | WATER | PURIFICATION | SYSTEMS

MILLIPORE-WATER-ALTERNATIVE.COM content (C)2009-2023 APS Water Services Corporation - All rights reserved
Website Software - Multi-Website Content Manager - Wilson Web Engineering (C)2012-2023


Micro-Website is a trademark of Wilson Web Engineering

barnstead genpure xcad water purification systems
millipore-water-alternative.com micro-website™
12/9/2023
6:12:58 AM




Google Apps
---